Security Installation
Security System Installation
At SOS, our first priority is to ensure your safety, just as your priority is to protect your family and personal property. We do it all from the installation of complete perimeter alarm systems and motion detectors to exterior video recording cameras.
FREE Security System Installation with GSM Backup

$49.95 per month includes:
Alarm Control Panel
Backlit English Keypad
Backup Battery with Power Source
Three Door Contacts
One Motion Detector
One Interior Siren
Three Window Stickers
Cellular Connection to Central Station
Three Year Monitoring Contract
Offer Includes Cellular Connection to Central Station – No more cut telephone lines!!!
Total Connect™ 2.0 from Honeywell Security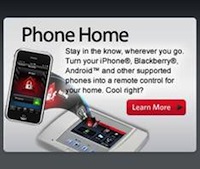 Other Installations
We install systems for both residential homes and commercial office buildings. Whether you're at home, at work, or on vacation, our state-of-the-art alarm systems will give you peace of mind!
Tuxedo Touch™ from Honeywell Security