Central Station Monitoring
Central Station Monitoring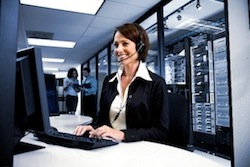 Our 24 Hour UL Listed Central Station offers you the comfort of knowing that your home or business is protected and secured at all times. In the event that your alarm system is activated one of our trained Operators will immediately.
Analyze the incident
Dispatch the appropriate authorities to your home
Contact your "Call List" to report the alarm
SOS Security's Central Station is designed to meet the rigid standards required to maintain an Underwriters Laboratories (UL) listing. With our state of the art alarm monitoring receivers and automation system we are able to provide our customers with reliable 24/7, 365 monitoring from a local facility. We are able to provide our customers exceptional service by offering a variety of different types of monitoring. These services range from traditional alarm transmission over phone lines as well as more secure monitoring by using our own managed mesh "SAFENET" radio system, GSM Radio or Internet (IP) alarm transmission. We specialize in monitoring both residential and commercial applications for Burglary, Fire, Medical, and Environmental devices such as low/high temperature alarms, water detection, pump failures, carbon monoxide and many more perils.